Catwalk fabrication Paso Robles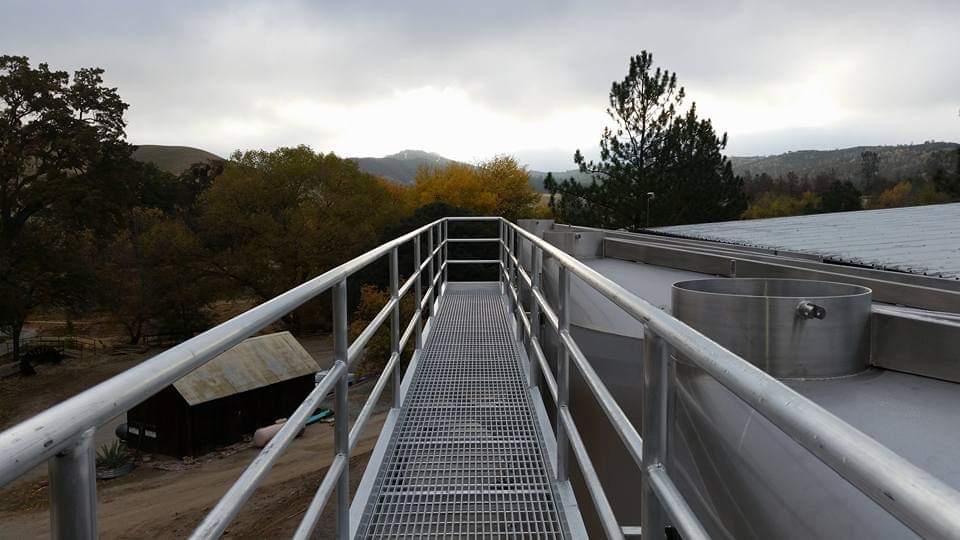 Catwalks, stairways and other kinds of platforms are important structures for industry. These structures allow access to areas that would otherwise not be safely accessible. Well-designed and constructed catwalks and platforms are highly important to monitoring fermentation processes and provide access for cleaning equipment.
Fabricating or modifying catwalks and their associated structures require detailed attention to:
The operation's needs
Regulatory requirements that address structural integrity and safety
Fabrication, design and installation
The operation's needs
Each operation has different needs because no two are configured exactly the same. There are height differences, spacing differences, flooring, lighting, and a variety of other factors that calculate into fabricating and installing catwalks.
The final structure needs to be structurally sound, functional, easily accessed with sufficient width and height to get the job done, and it needs to look good. No matter how structurally sound the structure might be, it is important that the appearance not draw unwanted attention during inspections, or from visiting customers.
A solid, attractive and safe structure from the ground up is evidence of a good investment for your current budget and for your future bottom line. Properly designed and fabricated catwalks support your business into the future.
Regulatory requirements
Regulatory requirements include local building codes, and other government requirements that address the structural integrity and safety of anyone who has to work on or around a catwalk or other platform. In some instances, these regulations might even extend to non-employees who are touring your facility.
Fabrication, design and installation
THC Welding can fabricate custom designed catwalks, platforms and stairways that meet your specifications and our budget.
We work closely with you to make sure we meet and exceed all the needs for your operation, including budget expectations
Our years of experience help make sure catwalks, stairways and other platforms meet regulatory requirements
We have the expertise to design and build structurally sound and attractive catwalks and other structures
We have the experience to help you solve problems with existing structures
Industry in Paso Robles
The Paso Robles area is home to wineries, distilleries, warehouses, manufacturing, production and other industries, all collectively contributing to the local north San Luis Obispo County economy.
THC Welding has been providing catwalk fabrication services to the winery and other industries since 1998. We take pride in the quality of our work and in our commitment to meet and exceed our customer's expectations. We strive for long lasting relationships based on quality solutions, trust and respect.
Call us for your welding needs today at (805) 400-4127