Sanitary process piping Paso Robles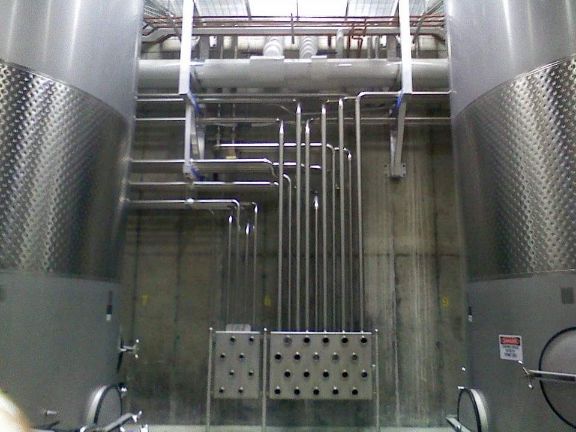 Wineries, breweries, distilleries and cideries deal with large volumes of fluids during the fermenting or distilling process. Sanitation is important for the final quality of the product, for your company's reputation and to prevent contamination from reaching your employees and customers. It is also important for complying with certain regulations and guidelines.
Why is sanitary process welding important?
When pipes need to be welded for any reason it is important to hire a company that recognizes the important role of clean and sanitary pipes in the fermentation or distilling process. Welding is an art that involves a great deal of science. It is a skill requiring considerable knowledge and a great deal of judgment acquired only through practice.
Pipes must fit tightly and preserve the quality of the product and meet industry hygiene standards. This means no leaks that allow contamination or waste and nothing in the workmanship that allows particles to collect and contaminate the product.
THC Welding can provide you with the sanitary process welding that keeps your production processes running smoothly and to the high quality you work hard to reach and maintain.
Our sanitary process welding services
When you need sanitary pipes welded for any reason our goal is to help you maintain a clean and sterile environment and meet the regulatory and industrial standards you need. We provide sanitary process welding for:
Customizing and retrofitting
Replacing pipes or sections of pipes
Installation
Repairs
And more
Your stainless steel pipes, tanks and other equipment are critical investment in your business. Let us help you preserve the integrity of all of your equipment and your final product.
Rely on THC Welding for the best quality.
What makes Paso Robles famous?
Paso Robles is well known for many reasons. In the early years, even before the arrival of the Spanish and the City of El Paseo de Robles was founded, the hot springs attracted the ancestors of today's local Salinan and Ohlone people.
Many associate the modern day Paso Robles area with vineyards, wine and wine tourism, but there is really much more to the area. The wineries, breweries and other unique "adult beverage" producers that call this region home are part of the local lifestyle, generating over 14,000 jobs and adding significant economic support to the local communities.
To the individuals and families who live and work here Paso Robles is famous for home, farming and ranching traditions, a wide range of recreational and cultural activities and more. The wine industry that has expanded since the 1970s and the newer growth of award-winning breweries and distilleries are rewarding additions to the wide variety of lifestyle, cultural and business opportunities that make combine to make Paso Robles famous.
THC Welding is proud to support our communities through participation as individual citizens, and our company practices of delivery the highest quality workmanship to our clients.
Call us for your welding needs today at (805) 400-4127